About Us

Awesome Blossom is the premier florist shop located in Cohasset, MA, owned by Marybeth Lynch. Awesome Blossom services Cohasset, and the surrounding communities, with custom designs and the greatest level of client service. Our deep-rooted passion for flowers, along with our dedication to service, makes us the ideal choice for any occasion!
We are located at 1 Pleasant Street in Cohasset Village. We have a large selection of fresh flowers and can create the custom design you're looking for. Our goal is to develop and maintain long standing, happy relationships with our clients and vendors.
We also carry plants, as well as fruit and gourmet baskets that can be created for any occasion. We offer our services for Weddings, Corporate parties, Funeral work as well as weekly Seasonal Interior arrangements for your home or business.
We want to be there with you for years to come, providing beautiful flowers for all of your special occasions. Let's start today.
Awesome Blossom Arts Benefactor Fund + Cohasset High School
Working to help support young artists in the community, Awesome Blossom created the Arts Benefactor Fund. A portion of the proceeds on flowers delivered within Cohasset is donated to the Cohasset High School Fine Arts department.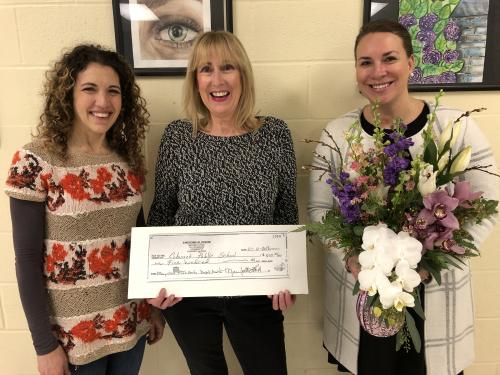 In February 2020, Mary Beth Lynch presented a $500 donation to the Cohasset Fine Arts Department teachers and students. We look forward to growing this ongoing program throughout the years ahead.